Xenoblade Chronicles 3, the title from Monolith Soft seems to be heading for the number one spot in terms of J-RPG this summer and since its announcement, the studio has been providing us with some details as the days go by. Recently, we had a guided tour of Aionios and this time, two new characters will join our heroes in the game.
Yuzuriha, the new attacker of the Agnus faction
To start the presentation of our two new heroes, we will talk about Yuzuriha, a character who has a rather particular style, but who remains visually quite colorful reminiscent of the famous rangers. It can also be noticed thatshe uses a bow and as shown in her official image or the tweet about her, she will be an attacker. His voice will be doubled by Rie Kugimiya that we're not going to introduce you to, but if you really don't know who it is, tell yourself that it's her who makes the voice ofAlphonse Elric in Full Metal AlchemistCelebi in the movie Pokémon Zoroark the Master of Illusions or Rise Kujikawa in Persona 4.
Yuzuriha is agile and moves quickly on thin ropes and in trees. His talent for making the most of his environment will put Mio, Noah and the others to the test as shown in the video of the tweet that you can find here. The last information we know about her is the fact thatshe seems to be from Agnus.
Zeon, the defender from Keves
The second character we're going to talk about today is what you might call a paladin in a whole bunch of other games. In effect, Zeon fights with a shield and a one-handed sword. His design really shows off his tough, cold side with his mix of colors and the fact that he's wearing his armor. In addition, there is a detail that did not escape you about him, these are the wings he wears on his head. This may seem innocuous, but it is also a possible reference to Melia coming from the first Xenoblade Chronicles or maybe he descends from the same line as the latter or fromEunie which also has this feature.
Like the other adventurers you will meet; it will put you in the way at some point in your adventure. To end on this protector who seems to know Noah and the other protagonists from: Keves for a long time, we will come back to his voice actor. It is Ryota Osaka who will interpret Percival in Granblue Fantasy Relink and who is already known for doubling Bennett in Genshin Impact, Gyutaro in season 2 of Demon Slayer (Kimetsu no Yaiba) or Marco Bodt in the movies Attack on Titan (Shingeki no Kyojin).
Teasing of an upcoming playable character in Xenoblade Chronicles 3?
To end this article, here is a little bonus that we offer. Indeed, the list of characters is already huge for a Xenoblade Chronicles (unless we count the Blades of the second opus) but other heroes could join Noah, Mio and the others since there is on a girl with the purple hair which is on an image of the official Japanese site and of which we did not have the official reveal. It is therefore a safe bet that she is one of those who are currently missing.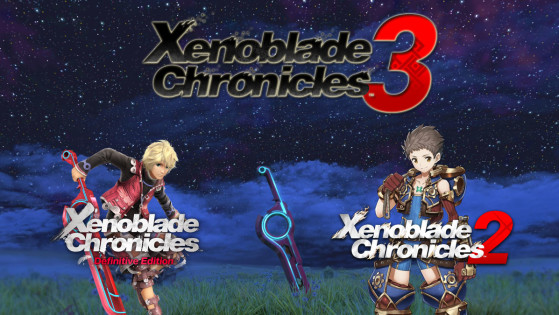 Xenoblade Chronicles 3 is out next month on Switch and if you haven't touched the first installments of the trilogy yet, Nintendo has launched a wave of promotions that could make you want to crack since they are available at a reduced price.