The chapter One Piece 1031 is published in the Weekly Shonen Jump N ° 49 (2021) Monday November 8, 2021 in Japan. It is released in French on Sunday November 7 on Manga Plus FR and Glénat Manga Max. The chapter is available.
RECOMMENDED >>> One Piece episode 997: "Under the moon! The fight of the Sulon berserks "
>>>Read online Chapter Scan One Piece 1031 VF

One Piece Scan Chapter 1031 SUV

Read the One Piece 1031 RAW Chapter Scan online
© SHUEISHA Inc. All rights reserved.
Chapter One Piece 1030: The warrior of science
The awakening of a devil's fruit is a "gift".
Law asks Kid how much he can magnetize but Kid doesn't answer him.
Big Mom uses a year of her life expectancy on herself to become more powerful and taller.
She gives life to several Homies, including Napoleon.
Drake declines Apoo's invitation.
Yamato lands where they are, and the "Fugue" Numbers chases her.
CP0 arrives where Robin and Brook are in order to capture Robin.
Spies who wear masks are on a whole new level compared to the rest.
Sanji is with a woman who was attacked, he seems to have done it but he looks confused.
Sanji wonders if it's because of Germa's powers and thinks he can become someone like his brothers who doesn't hesitate to attack women.
Sanji pulls out his battle suit.
Sanji talks to Zoro with a Den Den Mushi and tells him that if he goes mad or loses his mind, Zoro will have to kill him after the battle against Kaido's army.
Sanji attacks Queen with an attack called "Hell Memories".
End. He will have a break next week. One Piece chapter 1032 releases on Friday November 19, 2021.
One Piece © Eiichiro Oda / Weekly Shônen Jump / Shueisha Inc., Fuji Tv, Toei Animation
---
Weekly Shônen Jump N°49 (2021)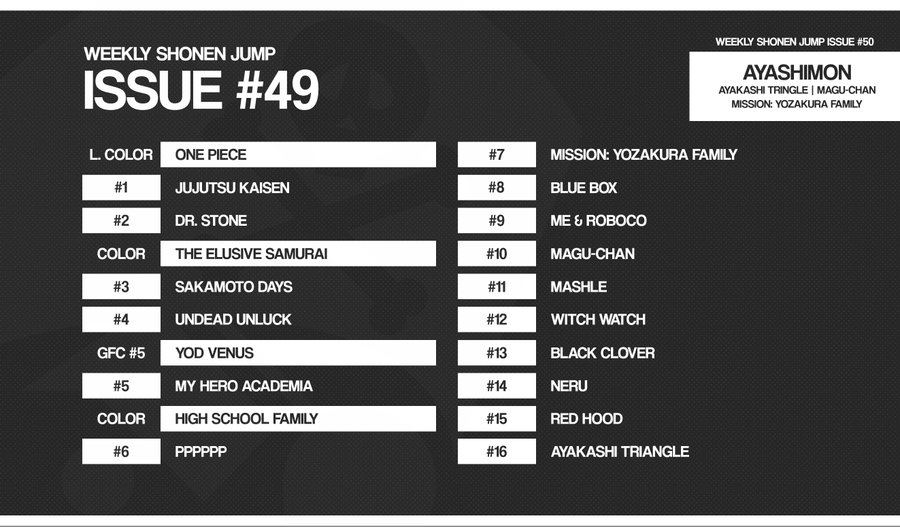 Cover and color page: One Piece
Page couleur : Elusive Samurai, High School Family, Yod Venus by Nagoshi Ryousuke! (GFC N°5)
Absent: Hunter x Hunter chapter 391
Cover and color page: Ayashimon (New series) by Yuji Kaku from Jigokuraku
Page couleur : Ayakashi Triangle, Magu-chan and Mission: Yozakura Family
Absent : Hunter x Hunter chapter 391
© SHUEISHA Inc. All rights reserved. | Illustration : https://www.deviantart.com/melonciutus/